Train up a child in the way he should go: and when he is old, he will not depart from it. Proverbs 22:6
Training up a child with scripture is a daunting task for some. Especially if you are not as familiar with the Bible as you would like to be.
Several months ago I came across a great tool for parents. It helps you find the right scripture for whatever situation that you have come up with your kids.
Is your kid hanging out with the wrong friends? There's scripture for that.
Do your kids fight among each other? There's scripture for that too.
There is scripture for everything, but knowing where to find what you need when you need it isn't always as simple as it sounds.
The Child Training Bible is here to the rescue.
I came across this kit several months ago, and after starting this new blogging venture on Christian Blended Families, I talked with the nice folks over at Child Training Bible and we set up a review and giveaway. I ordered my supplies and then this past weekend, I have it in my hand! All marked up and tabbed.
What you need:
1 Child Training Bible Kit
Order here –>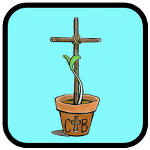 Order Supplies here: 
A Bible of your choice that is 9"x6"
Post-It Flags in 7 colors
Pens or Pencils to highlight
Double sided tape
Not only does this kit come with a great list of scripture to mark and flag, but it has talking points on each subject.
The subjects that the Child Training Bible covers:
Anger
Complaining
Defiance
Discouraged
Disobedience
Fear
Fighting
Gospel
Impatience
Jealousy
Laziness
Lying
Making Excuses
Not Listening
Wrong Friendships
Unforgiveness
Tattling
Stealing
Selfishness
Quarreling
Pride
When something comes up within your family, you pick out the subject. Today we are going to use Not Listening as a topic.
You Turn to the guide in the front of your bible and see that Not Listening is on the right side in pink.
You then turn to the pink tabs that correlate. There are several to chose from. You can read one verse, or several.
Here is one of the verses that we highlighted in pink:
My kid or kids and I will talk about the scripture then we will go and read on the cards that we keep tucked in the back of our CTB.
This talking points are awesome! It asks you questions and gives you something to think about and more scripture to read, then it helps you know what to do next.
So far we have talked about a few subjects this weekend using our new CTB and it has left a lasting impression on the kids, but no only the kids it has really impacted the way I have been instructing our kids.
As a blended family mom, I feel that it is even more important to teach the kids that don't live here and may be subjected to a non-Christian life in their other home. This may not be the case in your family, and Lord knows that I hope it isn't in any home. I know in reality that it the case remains in many of our blended families.
Arming your children with scripture for when they are away from you, the Christian parent, is a great way to help parent your child while they are not with you. When they can fall back on what they know is right from scripture, you and your kids will be greatly rewarded.
We are discussing ordering 2 more of these kits (I have enough supplies for these too already) to prepare a CTB for the other homes in our Christian Blended Family. Even if the parents to not use them with the kids, the kids will have them available for them to use on their own. And yes the makers of the CTB made them super simple to use for kids, as long as they can read.
If you have a CTB in both (or all) homes that your kids are in, then if they are away and have a problem pick up the phone and your CTB and call and read the Bible with your kids. This comes in handy when parenting from across many miles away.
Want to win a copy of your own and "Train up a child"? Enter with several easy and fast options below!!